Our Meditation Machines Reviewed In Yoga Magazine, May 2008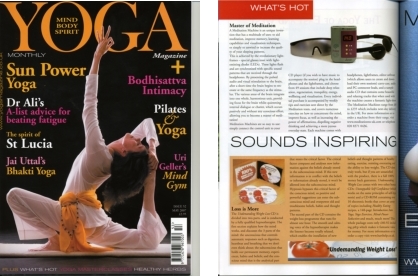 This is what they said :
" A Meditation Machine is a unique invention that has a multitude of uses: to aid meditation, improve memory, learning capabilities and visualization techniques, or simply to unwind or improve the quality of your sleeping patterns."
Read the full review here.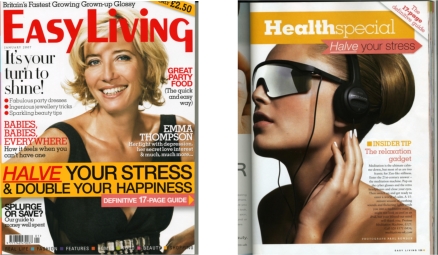 Featured in 'Easy Living' Magazine, January, 2009
This is what they said :
"Meditation is the ultimate calm-me-down, but most of us are too frantic for Zen-like stillness.
Enter the 21st century answer - the meditation machine. Pop on the cyber glasses and the retro headphones and close your eyes. Then switch on and get ready to enter a world of calm. A 15 minute session of soothing sounds and flickering lights sends you into a meditative state.
It might not look as cool as an iPod, but your blissed-out mind will thank you. Contact : Meditations UK "