Anxiety
MindSpa helps 16 year old boy suffering from exam stress

Josh Spelton is a quiet, sensible 16-year-old boy, who enjoys playing tennis and travelling abroad. He lives in North London with his 15-year-old sister Amy and his parents who have been happily married for the past 21 years.
Josh comes from a good, close, loving family and although his parents want him to be able to get on in life, they try their hardest not to put any pressure on him. "Josh can be a worrier and will put himself under pressure, he always pushes himself as far as school work is concerned, he wants to do the best that he can. He is a good boy and values what he does." Says his mother, Debra.
About a year ago the stress of doing exams and the general pressure of school started to get to him and started to affect his sleep patterns. Josh had in the past always been a good sleeper," says mother Debra. "He would generally go to bed at around 10pm, as soon as his head hit the pillow he would fall asleep and he wouldn't wake up until 7.45 when it was time to get ready for school. He would be in such a deep sleep that I would always have to wake him up."
His mum Debra said "All of a sudden Josh just wasn't able to shut down, he stopped being able to sleep, he would lie in bed for hours trying to get off to sleep. It affected his mood, he was tired all the time, he became short tempered, he wasn't happy in himself and he started worrying more as he couldn't rectify his sleeping problems."
His mother tried all the traditional remedies such as hot baths, warm drinks etc. Out of desperation, she even took him to the doctor who prescribed sleeping tablets. Debra was against giving her son medication but felt that she didn't have a choice, but even the sleeping tablets didn't seem to help.
Debra was at the end of her tether and was terribly worried about Josh. He had taken some important exams at school and had got himself into a real state. He was really stressed and found it hard to concentrate. She was so worried for him. "If he's in this kind of state now how would he be able to cope when it came to his GCSE's." said Debra.
Then Debra heard about the MindSpa system. The MindSpa Meditation Machine is a small, light, highly portable machine that combines soothing pulses and visual stimulation to the brain via headphones and special glasses. After a short period of time the MindSpa slows down your brainwaves producing the effect of meditation.
She was extremely sceptical about it and didn't really believe that it could help, but she decided to give it a go. Josh started to use his MindSpa before he went to bed, and very soon his sleep patterns had improved considerably.
But it wasn't just his sleep that has improved. Debra has also noticed that he is more relaxed, calmer and coping better with situations that previously caused him stress. He has just finished his mock GCSE exams and Debra says, "The MindSpa has helped him cruise through his mocks without the anxiety that he previously had."
Debra is so impressed with the MindSpa and has told her friends about it and would recommend it to anyone with sleeping or stress problems. In her own words Debra says " Josh uses it every night and keeps it on his bedside table. I feel it has changed our lives."
Home About Us Contact Us Meditations Machines RESPeRATE Biofeedback Systems Checkout Terms & Conditions Privacy Policy
© 2010 Meditations Ltd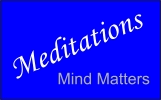 Case Studies
Get our FREE guide 'About Stress' and start to relieve stress today.
Anxiety