Meditations Ltd was born out of an awareness of the growing interest in the use of meditation and relaxation techniques as an antidote to the fast-paced lifestyles that many of us experience.

Many people are put off by meditation because it seems mysterious and difficult to learn. But we believe that our products can enable anyone to achieve deep meditation and relaxation with little or no effort.

We are independent specialists and have carefully chosen the best products available. We are able to offer unbiased advice about which items will be most suitable for you and invite you to contact us to discuss your requirements.
It is our desire to bring the benefits of meditation to as many people as possible.
"Meditation seems to produce a physiological state of deep relaxation coupled with a wakeful and highly alert mental state. The physiological state brought about by meditation appears to be the opposite one brought about by anxiety or anger" - Lawrence LeShan, author of How To Meditate
Why You Should Buy a Meditation Machine From Us
"Now that's what I call service. If only all companies were as helpful "
Karen Bradley - Liverpool, UK
We are the leading independent specialists and suppliers of Meditation Machines. Apart from Meditation Machines, we sell only a small range of complementary products.


We support you in the use of your Meditation Machine by keeping in touch with regular emails containing hints and tips for you to get the most from your Meditation Machine sessions.


Because we specialise in supplying Meditation Machines, we are able to give expert and unbiased advice to help select the best Machine for you.


We give away a powerful, 4 week 'Concentrate Your Mind' course worth £25 with every Meditation Machine. The course will complement your Meditation Machine enabling you to get even more amazing results.


Your Meditation Machine will come with a 30 day satisfaction money-back guarantee.


We will send out your Meditation Machine free of postage and packing by Royal Mail Special Delivery which guarantees that you will have it the next day if we receive your order before 3:00 pm.

"I must say, from the point of my initial telephone enquiry through to today's reading of your latest newsletter, some two weeks after receiving your excellent product, I must say how impressed I am by the service I have received, and continue to receive, from your excellent company.
My MindSpa arrived as promised and I have used it ever since. However, what I hadn't expected was your follow up, ensuring not only that I was satisfied with the product but also ensuring that I was able to get the maximum benefit.
You have made it very easy indeed to recommend you and your wonderful and inspirational products. Thank you"
Gouy Hamilton-Fisher - Cheshire, UK

And it's the little things that matter ....

Most of the Meditation Machine manufacturers don't include batteries with their systems. But we put our own batteries in the box when we send your Machine to you so that you can start to use it straight away.

"I would rate your customer service very highly. You do seem to actually care how your customers are getting on rather than just resting on your laurels after the sale has been achieved. Thanks for all your help.""
Joyce Harkin -Glasgow, Scotland
"Many thanks again for such a great service - an example to all companies!"
Eddy Sepulveda - London, UK

Remember, if you have any questions about Meditation Machines or any of our other products, you can phone us on 020 8371 0436 or email us at info@meditations-uk.com
Home About Us Contact Us Meditations Machines RESPeRATE Biofeedback Systems Checkout Terms & Conditions Privacy Policy
© 2010 Meditations Ltd
Our Mission : "To inspire people to meditate and develop a calmer, less stressful and more fulfilled lifestyle"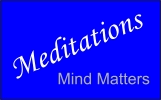 About Us
Get our FREE guide 'About Stress' and start to relieve stress today.