Terms & Conditions
Ordering Online
Prices shown are the price you pay, unless individually specified. On almost all our products, the price displayed includes postage, shipping and handling within the UK mainland. For some of our items we have to charge extra postage and the price will be clearly specified within that particular product's description. We aim to dispatch orders within 24 hours. if your item has more than a 3 day delay we will notify you. You will always be emailed with confirmation of your order.
Ordering Online with us is safe and secure. Our payment page is powered by Optimal Payments.
Guarantee / Refund Policy
Our Meditation Machines come with a 30 day guarantee. In the case of RESPeRATE, the guarantee is eight weeks. For these products , that means that if for any reason you are unhappy with your purchase, you can return it to us in its original condition so that we receive it within 30 days of the date on which we dispatched the item and we will issue a full refund ( excluding delivery costs and any administration charges). You must pay for the return postage.
You must contact us before returning a product to obtain a Return Merchandise Authorization (RMA) number.
For full instructions for returning a Meditation Machine, please see our Refunds & Returns page.
Please note that we do not issue refunds for the Wild Divine products.

Shipping Information
All orders above £50 in value are sent by Royal Mail Special Delivery (which guarantees next day delivery) unless otherwise stated. Orders below £50 in value are sent by Royal Mail Recorded Delivery. We cannot accept responsibility for postal delays.
Oversea's shipping charges are calculated on a per-product basis. Please make note of the shipping charges associated with each item.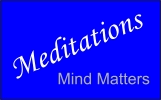 Terms & Conditions
Get our FREE guide 'About Stress' and start to relieve stress today.