Insomnia - Meditation Machines can help improve sleep
netspotaudio.com Vuer
Sleeping difficulties

are increasingly becoming a problem in our high-stress, fast-paced world.
Often when we go to bed, our minds are racing with thoughts and we find it impossible to stop our mental chatter – that internal dialogue that goes on inside our heads and can overwhelm our ability to get a good night's rest.
Over time, lack of sleep can have a very debilitating effect on your physical and psychological health. Often it can lead to feelings of irritability and this can have devastating effects on relationships at home and at work. Constant tiredness can also affect your performance at work and you may experience difficulty in concentration and focusing on tasks.
You might have one or more of the following :
Difficulty falling asleep


Waking up often during the night and having trouble getting back to sleep


Waking up too early in the morning


Unrefreshing sleep
"Since using my Meditation Machine, my sleep has been a lot deeper and I can function during the day much better as I'm not constantly tired"
Jo Shepherd - Teacher - W. Midlands, UK
How a Meditation Machine helps with sleep problems
Using your Meditation Machine immediately before you plan to sleep will help to naturally quieten your mind and relax your body. It will also help to generate the brain wave patterns that trigger high-quality sleep.

Simply sit or lay down in a comfortable position, put on the headphones and light-stimulation glasses and select a deep relaxation program.

After a few seconds, you'll hear soothing pulses through the headphones and at the same time, through your closed eyelids, you'll see the softly, flickering lights produced by the glasses. The sounds and the lights start to slow down in synchrony and, without any effort, your mind and body will automatically start to slow down and relax.
The sensory combination of light and sound removes outside distraction, gently bathing you in a pleasant world of peace and tranquility. When the session ends, (or before the end of the session if you start to feel drowsy), take off the headphones and glasses and go to sleep.
The feeling of calmness and restfulness will stay with you as you gently drift into a refreshing sleep and you will awake in the morning re-energised and ready to greet the day.
In a more general way, using your Meditation Machine over time will improve the way you handle stress and and condition your mind to be quieter and calmer. This will have a cumulative effect in improving your sleep patterns.
"Until quite recently I have never had a problem in getting off to sleep but I have found that the MindSpa makes me so relaxed I just drift off to sleep the way I always did in the past.
I, and my husband, find the machine very relaxing and the feeling of calmness last for a long time after. I think we have both noticed that the more we use the machine the more relaxed we tend to be on a daily basis.
The information emails you send are very interesting and I have been very impressed by your after sales service. "
Sheila Anderson - Northumberland, UK
Autumn Special Offer
During the Autumn, we are giving away three amazing guided visualisations with every Meditation Machine - Deep Relaxation and Meditation, Developing Your Intuition and Manage Stress & Anxiety.
Featured our Meditation Machines in their Health Section , 28th August, 2007. This is what they said :
"Before he got his MindSpa, Stephen Anderson, an electrical engineer from Lancashire, was desperate. For years he had suffered severe insomnia, until he came across Meditations-UK on the internet. "I wasn't expecting miracles," says Anderson. "I thought maybe there'd be a slight improvement over three or four months."
On the day it arrived, Anderson, 43, gave it a trial run. An hour later he woke up. "I never even catnap!" he says. Anderson has been using the Meditation Machine for six weeks now. "I've slept every night and can even lie in at weekends. And where I used to hit a brick wall at work, I can now reach solutions much more clearly."
"Since using my Meditation Machine, my sleep has been a lot deeper and I can function during the day much better as I'm not constantly tired"
Jo Shepherd - Teacher - W. Midlands, UK

Meditation relieves insomnia

Intrusive thoughts and increased muscle tension can interfere with your sleep. It's not surprising, therefore, that practicing meditation, with its effects of quieting your mind and relaxing your body, has been found to be an effective treatment for insomnia.
Recent research by Dr Gregg Jacobs at Harvard Medical School on the effects of meditation-based relaxation techniques has demonstrated the link between meditation and brain wave activity. >Read article
These findings suggest that insomniacs will find it easier to get to sleep if they practice meditation at bedtime or after awakening during the night. Dr. Greggs has said that "75% of long-term insomniacs who have been trained in relaxation and meditation can fall asleep within 20 minutes of going to bed.
"Over the years I have had problems sleeping; either falling asleep or waking up in the small hours and then unable to get back to sleep. This has been due to a number of reasons but stresses, over-tiredness, a cluttered mind which won't switch off have all contributed to my anxiety.
I have tried endless remedies, some of which have helped but I decided to try the Mindspa Meditation Machine and it has been absolutely brilliant.
I easily got into a routine of using it every night before I go to "sleep" and I find it calms my mind which relaxes my body and I drop off...BLISS If I do wake up during the night I just use it again and go straight back to sleep. I also enjoy the feeling of it relaxing me!
Knowing how much lack of sleep has pulled me down in the past and in fact how ageing that is, I only wish I had known about and bought a Meditation machine sooner. Seriously it's the best investment I can think of! "
--- Clare Thomas - Dundee
Using Meditation Machines to aid sleep
Using traditional techniques, learning to meditate would take many months, or even years, of practice - with no guarantee of success.
With our Meditation Machines you can take the Fast Track to Meditation. A Meditation Machine combines modern technology with ancient wisdom.
You'll meditate in your first session


You'll meditate easily and effortlessly


You'll start to receive benefits immediately


Becoming calmer mentally and physically happens automatically


WIthin a short time, you'll meditate as deeply as a Zen monk



"I am writing to say that having purchased a MindSpa a couple of weeks ago, I have been amazed at how effective it has turned out to be.
This is in the context of extreme cynicism to begin with (I really didn't think it would work and still don't know how it does) and the fact that the first 2 - 3 sessions left me feeling more tense than usual as I struggled to adapt to the unusual lights and sounds.
Since then the results have been nothing short of amazing. I have NEVER jumped out of bed, having slept deeply, full of energy in my life but do now! I would be happy for you to use this communication as a testimonial but would prefer that you used my initials only"
T.A. - Northamptonshire, UK
Using a Meditation Machine before you go to bed will help you relax both mentally and physically. It will also produce brain wave patterns that are similar to the early stages of sleep. >Learn more about alpha and theta brain waves

All our Meditation Machines include sessions that will lead you gently into a natural state of relaxation that will make it easier for you to fall asleep and stay asleep.
"I am amazed by the effectiveness of the Meditation Machine at improving one's sleep"
Ben Glazier - Gwent, UK
We especially recommend the MindSpa system as being particularly useful in dealing with sleep problems.
Please phone us on 020 8371 0436 or email us for further advice about our products, or if you're not sure which Meditation Machine would be most suitable for you.
"My sleeping patterns do seem to have improved. This was the main reason I bought the Mindspa, I was having difficulties sleeping.
I had put it down to my age, 52, but I do seem to be getting a better quality of sleep.My problem was a very active brain which wanted to think of all sorts of things as soon as I laid down in bed. Now I seem to get off to sleep quite quickly."
--- Leigh Cowell, Oxon, UK
Home About Us Contact Us Meditations Machines RESPeRATE Biofeedback Systems Checkout Terms & Conditions Privacy Policy
© 2010 Meditations Ltd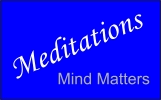 Improve Sleep
Get our FREE guide 'About Stress' and start to relieve stress today.