Speed Learning using Meditation Machines
"I

magine how your life would improve if you could learn faster and retain much more without constant revisions ?

"

Research shows that the key to speed learning is your state of mind before, during and immediately after your learning session.
It is when you are in a state of relaxed alertness that you will achieve the greatest improvement in memory together with increased concentration and creativity.
When you practice relaxed alertness you will immediately start to:
Improve memory and retention of study material


Enhance understanding during learning sessions


Accelerate new language learning


Increase maths ability
"I'm a mature student and was worried about going back to studying. My MindSpa has been a real help to me.
I found that I could concentrate for long periods and I'm amazed at how much it has helped with my memory. Thank you for an amazing product and for your helpful support."
--- Julie Bennett, Norwich, UK
Speed Learning and Brainwaves

If you're wide awake and alert at the moment , your brain is probably operating at 13 to 25 cycles per second - the beta level. >Click here to learn more about Brain Waves.
But that's not the best state for learning and studying. Research has shown that deeper levels of brain activity lead to speed learning. Deeper levels are reached at the alpha and theta brainwave patterns, which are characterised by feelings of calmness and a relaxed alertness.
It is in the alpha and theta states that the greatest feats of super-memory, along with heightened powers of concentration and creativity are achieved.

Using Meditation Machines for Speed Learning

Using a Meditation Machine before you study will help lead you into the perfect state of relaxed alertness for speed learning . It will automatically produce the alpha and theta brain wave patterns that are essential for greater understanding and memory.
You can also use your Meditation Machine immediately after a learning session. This will help you to deeply integrate your newly learned material.
Meditation Machines are small, light highly-portable machines that present pulsed audio and visual stimulation to the brain via headphones and special glasses. After a short period of time, the brain begins to follow the frequency of the stimulus. In this way, Meditation Machines can slow down brainwaves producing the effect of meditation.
In fact, with only fifteen or twenty minutes use of a Meditation Machine, you can start to achieve the same deep, mental state as a Zen monk. But instead of taking years of practice, this will happen in your first session - automatically and effortlessly.
"I sailed through my exams. Couldn't believe how much I remembered. My Meditation Machine cut down on my study time. It felt weird at first but I'm glad I stuck with it."
--- David Deals, University Student, UK
Using the new MindSpa 'Eyes-Open' System for Speed Learning
One of the main features of the new MindSpa Meditation Machine is the innovative Multi-Purpose glasses.
These glasses use six lights for each eye placed along the outside edges in an oval pattern. This means that they can be used with your eyes open while reading or working at your computer, for example.and so will provide a very powerful way of keeping your mind at those important alpha and theta levels.
The CrystalWhite Multi-Purpose glasses have been developed through intensive research with a major university and in consultation with psychologist, Dr. Ruth Olmstead.
"Whilst I have ony been so lucky as to have my MindSpa for a couple of weeks, I have already noticed (and hope my staff have) a degree of fluency in my thought process, vocabulary, and attitude at work, which was not so evident to me previously.
I now look forward to using my MindSpa for studying looking first to improve my mental arithmetic and then my use of my wife's language, Hungarian.
Thank you meditations. It seems that I have at last found what I was looking for."
--- Gouy Hamilton-Fisher , Cheshire, UK
All our Meditation Machines include sessions that have been especially designed to improve learning ability.
We especially recommend the MindSpa system as being particularly useful for Speed Learning
Home About Us Contact Us Meditations Machines RESPeRATE Biofeedback Systems Checkout Terms & Conditions Privacy Policy
© 2010 Meditations Ltd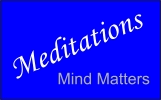 Speed Learning
Get our FREE guide 'About Stress' and start to relieve stress today.