Stress Management

"When your days are filled with
stress

,

anxiety

and

aggravation

, your life may seem like a never-ending battle."
How would you feel if you could learn to relax, reduce stress and impove your sleep easily and automatically ........STARTING TODAY ?
netspotaudio.com Vuer
Stress can build up and have many bad effects, such as:
You blow up at the people you love

You have problems sleeping

You feel out of control

You get moody or depressed

You often feel irritable and annoyed

Your self-confidence suffers
Meditation Machines and Biofeedback systems can help relieve and manage stress.
Managing stress with Meditation Machines
Regular meditation has the following benefits :
You feel calmer and more relaxed

You react to stressful events with greater control

Your sleep patterns improve

You have a greater sense of well-being

You feel less anxious

You have a sense of fulfilment and purpose

Your self-confidence improves
Using traditional techniques, learning to meditate would take many months, or even years, of practice - with no guarantee of success.
With our Meditation Machines you can take the Fast Track to Meditation. A Meditation Machine combines modern technology with ancient wisdom.
You will meditate in your first session

You will meditate easily and effortlessly

You will start to receive benefits immediately

Becoming calmer mentally and physically happens automatically

WIthin a short time, you will meditate as deeply as a Zen monk
Managing stress with Biofeedback
Biofeedback is another technique to control stress and improve your emotional and physical well-being. It is scientifically based and validated by studies and clinical practice.
Biofeedback systems make you aware of your unconscious "involuntary" physical reactions to stress and teach you how to use your mind to take voluntary control over your body.
In the past, biofeedback systems have been expensive to buy - and boring to use ! But the Journey to Wild Divine is a unique computer game that links biofeedback hardware with your computer to create an incredible experience. Unlike a normal computer game where you accomplish errands by clicking on a mouse, in "The Journey ", you perform increasingly difficult tasks by practicing breathing and meditation techniques that affect your heart rate and excitement level
Home About Us Contact Us Meditations Machines RESPeRATE Biofeedback Systems Checkout Terms & Conditions Privacy Policy
© 2010 Meditations Ltd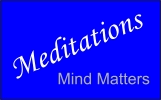 Stress

Get our FREE guide 'About Stress' and start to relieve stress today.

M