" "I purchased an inner pulse deluxe meditation machine with the coloured glasses.It arrived the next day,
The other items I ordered separately also arrived next day When information has been requested, it has been responded to almost immediately.
Everything you have been asked for so far has been done with great politeness, and speed. Well done on great product and excellent customer service"
------ Sophia Gleed - Sussex, UK"

Why You Should Buy a Meditation Machine From Us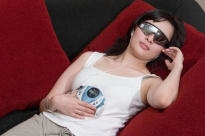 We are the leading independent specialists and suppliers of Meditation Machines. Apart from Meditation Machines, we sell only a small range of complementary products.


We support you in the use of your Meditation Machine by keeping in touch with regular emails containing hints and tips for you to get the most from your Meditation Machine sessions.


Because we specialise in supplying Meditation Machines, we are able to give expert and unbiased advice to help select the best Machine for you.


We give away a powerful, 4 week 'Concentrate Your Mind' course worth £25 with every Meditation Machine. The course will complement your Meditation Machine enabling you to get even more amazing results.


Your Meditation Machine will come with a 30 day satisfaction money-back guarantee.


We will send out your Meditation Machine free of postage and packing by Royal Mail Special Delivery which guarantees that you will have it the next day if we receive your order before 3:00 pm.


And it's the little things that matter ....

Most of the Meditation Machine manufacturers don't include batteries with their systems. But we put our own batteries in the box when we send your Machine to you so that you can start to use it straight away.

Remember, if you have any questions about Meditation Machines or any of our other products, you can phone us on 020 8371 0436 or email us at info@meditations-uk.com
Home About Us Contact Us Meditations Machines RESPeRATE Biofeedback Systems Checkout Terms & Conditions Privacy Policy
© 2010 Meditations Ltd