Healing Rhythms from the Wild Divine Project


Introducing Healing Rhythms, the first whole-body wellness program to bring together three of the most prominent leaders in the field of health and wellness – doctors Deepak Chopra, M.D., Dean Ornish, M.D. and Andrew Weil, M.D. Together with Healing Rhythms' beautifully interactive 15-Step Biofeedback Training Program, you will learn the tools to help build a happy mind and a healthy body.


"One of the most important tools you can incorporate into your daily life to effect not only the longevity of you life, but the quality of your life, is a deeper, slower breathing practice. The exercises in Healing Rhythms do just that."
- Dr. Andrew Weil
See and feel results from the very first step, in as little as fifteen minutes.
Incorporate effective daily exercises into your personal practice for long-term physical and mental health.
Achieve a new level of well-being that promotes better sleep, better relationships, and a more balanced and healthy lifestyle.
"Healing Rhythms uses biofeedback to access your innate healing abilities to restore your physical, mental and spiritual health."
- Deepak Chopra, M.D.
Watch your body respond in real-time, on screen!
Practice these mind-body techniques along with your mentors as you listen to transformative music and watch soothing visuals rippling by on your screen. Or switch to the IOM Grapher Mode and track your body's signals as they rise and fall in synch with your state of mind.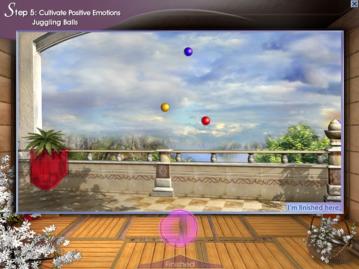 Finally, watch your mind & body at play on-screen during the breathtaking biofeedback events as you learn to juggle balls with your laughter, build a stairway with your breath, and meditate to open doors! Increase the difficulty level of each challenge as you begin to master your new skills and are comfortable practicing them in your everyday life.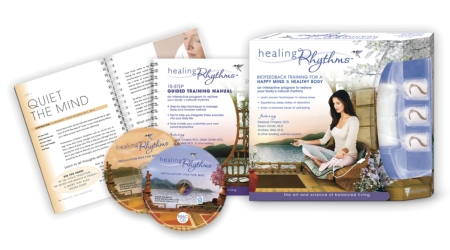 Price including free 'Next Day' UK delivery : £199
How is Healing Rhythms different from The Journey to Wild Divine products?
Receive Comprehensive Training with just a Few Minutes a Day
With newly improved, comprehensive "Self Exploration" or "Guided Training" mode, you can now choose to go through a step-by-step Guided Training program, where you learn powerful exercises to help you achieve mind/body wellness through expert audio inspirations, or, you can go directly to "Self Exploration", and choose the mind/body practice you need at any particular moment. Select from 15 different steps in three categories, including Self Discovery, Creating Happiness, and Developing Life Skills.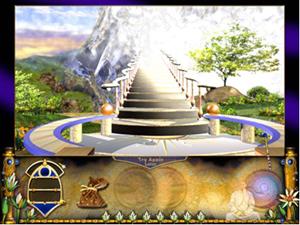 No Navigation Required
Healing Rhythm guides walk you through the various steps to help you reach mind/body wellness, reduce the effects of stress, relieve anxiety, and experience total self-transformation through Inspirations and Practices. Learn how to "Quiet the Mind", "Observe your Thoughts", Find Your Inner Balance", "Release Physical Tension", and more.
Mentors at your Fingertips
Never before have Deepak Chopra, M.D., Dean Ornish, M.D., Andrew Weil, M.D., and other leading wellness experts such as Joan Borysenko, Stephen Cope, Nawang Khechog, and Sharon Salzberg been available in one comprehensive mind/body wellness program.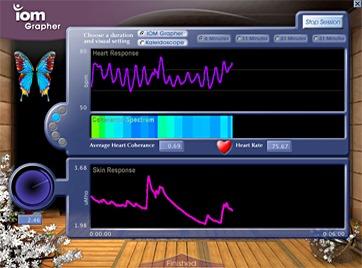 Integrated Grapher
As you experience your biofeedback events and practice the exercises, Healing Rhythms allows you to chart your biofeedback data including Skin Conductance Level (SCL) and Heart Rate Variability (HRV) during your practice!
This newly engineered Grapher allows you to track your progress throughout your practice, and shows you your pre, during, and post coherence levels.
How does biofeedback help me to achieve a healthier, more balanced lifestyle?
"Meditation, along with biofeedback, is a perfect tool to help train you to return to your natural state of balance and wholeness."
- Dean Ornish, M.D.
Stress is medically proven to pressure the body and takes its toll on our physical and mental well-being on a cellular level. According to the Centers for Disease Control and Prevention, up to 90 percent of the doctor visits in the USA may be triggered by a stress-related illness. Healing Rhythms unique biofeedback program is designed to help you uncover your body's own natural ability to counter the wear and tear that everyday stress has on your health.

Biofeedback monitors your physical and emotional responses to stress and provides feedback that helps you learn how to activate, balance, release and recover from them for optimal health. The IOM biofeedback unit measures your skin conductance and heart rate variability. This input drives the beautiful biofeedback challenges as you practice the meditation and breathing techniques from the expert guides in each step. The IOM Grapher screen, allows you to track your measurements as you transform the rhythms of your mind and body. By following the 15-Step Training Program, you'll begin to see life changing results from the very first step.

What's Included:
IOM Biofeedback Hardware and Finger Sensors

Over 30 guided meditation and breathing practices

15 Biofeedback Events with variable difficulty settings

Iom Grapher Mode to track your body's signals in real-time (heart rate), heart rate variability, and skin conductance

Full Color, 90-page Training Guide & User's Manual

Installation disks for PC and Mac
Price including free 'Next Day' UK delivery : £199
Special Bundle Pack - Healing Rhythms + The Journey To Wild Divine 'The Passage'
Healing Rhythms is now available in a special bundle pack that includes the software only version of The Journey To Wild Divine 'The Passage'.
'The Pasage' contains a series of biofeedback exercises presented in a game environment that is suitable for all ages. It is especially engaging for younger people and children.
'The Passage' uses the same IOM finger sensors as Healing Rhythms.
You can learn more about 'The Passage' by clicking here
Price including free 'Next Day' UK delivery : £275
Home About Us Contact Us Meditations Machines RESPeRATE Biofeedback Systems Checkout Terms & Conditions Privacy Policy
© 2010 Meditations Ltd