2010 emWave DeskTop - from HeartMath

Revitalize your emotions, mind, spirit and body with emWave PC Stress Relief System

Are you interested in performing better in your career, reducing stress and experiencing a more balanced life? Are you searching for ways to become healthier and more resilient, or deepen your relationship with others? The emWave PC Stress Relief System can help you achieve your goals.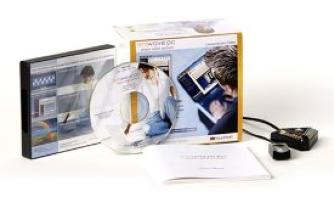 emWave is used by tens of thousands of health professionals, sports coaches, business leaders, educators and people from all walks of life in over 50 countries to enhance their lives.
How emWaves Works
The emWave PC Stress Relief System with Patented Heart Rhythm Monitor will help you transform stress and anxiety into vibrant energy. Much more than a heart monitor this revolutionary technology guides you on how to achieve higher, more creative energy levels, less stress, and optimal health.
Research has shown that emotions are reflected in our heart rhythm patterns. The analysis of Heart Rate Variability (HRV), or heart rhythms, is recognized as a powerful, non-invasive measure that reflects heart-brain interactions and autonomic nervous system dynamics, which are particularly sensitive to changes in the emotional state.
emWave PC is a software and hardware program which collects pulse data through a sensor which plugs into your computer. The program translates the information from your heart rhythms into user friendly graphics displayed on your computer screen.

Watch your heart rhythms in real time.

See how emotions affect your heart rhythms.

Discover which emotions you can activate to more effectively manage stress and boost vitality.

With emWave PC, you learn to build a buffer against stress by accessing a high performance state called "coherence." Coherence is a mental and emotional state that people experience when they are "in-sync" or in the "zone"--when the heart, brain and nervous system are working in harmony. Simply stated, more coherence equals more energy and less wear and tear from stress.

How to use emWaves
emWave allows you several ways to display and analyse your heart rhythms and other data in real time.

Interactive Games and Challenges

Three new colourful interactive games designed to help you transform stress into creative energy while building your coherence scores.
Balloon Game - The balloon changes speed and altitude as your coherence level changes. The balloon will speed up and fly higher as you move into medium and high coherence.
Rainbow Game - The rainbow will move towards the pot of gold when you enter medium and high coherence levels, but retracts if your coherence falls.
Garden Game - The garden fills with colour and magical images as you reach medium and high coherence.

Emotion Visualizer

The Emotion Visualizer provides stunning, colourful images which change according to your emotional state and coherence level.
Star Fire - Energy radiates from a distant star as you increase your coherence level by experiencing positive emotions.
A Child's Heart - Your coherence level will rise as you activate a feel-good emotion and the child will respond by sending more colourful light towards Earth.
Portal of Care - Watch as the flow of hearts through the portal increases as your emotional state improves.
Healing Hands - An inspiring image of a flame rising from the palm of a hand. The flame amplifies in intensity as you are encouraged to feel a positive emotion and your coherence level increases accordingly.
Coherence Coach
The Coherence Coach is an interactive program that gives you a structured, step-by-step technique for managing stress and optimising performance. It uses audio instruction, visual images and a variable breath pacer to quickly bring your physical, mental and emotional states into balance.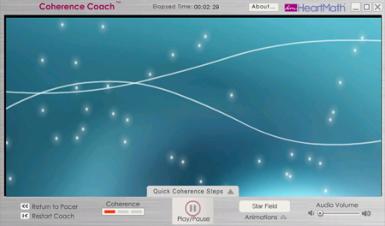 Price for PC version including free 'Next Day' UK delivery : £249

Price for MAC version including free 'Next Day' UK delivery : £249
Monitor Your Progress

emWave allows you to save your session data enabling you monitor your progress in achieving greater emotional, physical and mental balance. Session information can be stored separately for each individual who uses the emWave system making it ideal for whole families.
Comprehensive Tutorial
emWave is easy to use and includes a full and comprehensive tutorial. You'll quickly learn how to get started the most out of emWave. The science behind coherence is explained to increase your understanding of what you're achieving.

More about Heart Rate Variability and Coherence
A healthy heart has a natural variation, from minute to minute, beat to beat – even when you are sitting at rest. A change equivalent to 30 beats per minute over just a few seconds is not uncommon. This is phenomenon is known as Heart Rate Variability (HRV). It's a sign of health – in fact the greater the variability the better.
Heart rate (HR) is intimately tied to the bodily expression of emotions. You can probably think of times when your heart raced with excitement, or "missed a beat" following a shock.
However, patterns within the variability are much more significant than the simple rate. In states of stress, anxiety, anger and sadness the variation tends to be disordered and chaotic. In positive emotional states such as love and gratitude, the variation tends to be ordered and rhythmic. This state of rhythmic variation is known as Heart Coherence, and is a highly efficient and healthy mode of operating
The emWave PC technology is an easy-to-use software program with a heart rhythm monitor. The system is an innovative approach to stress relief based on learning to change the heart rhythm pattern and create physiological coherence in the body.
With this program you can see how your thoughts and emotions affect your heart and nervous system through the user friendly graphics displayed on your computer screen. When stressed, your heart rhythms have an irregular, jagged incoherent pattern. When you shift to a more positive emotional state, the heart rhythm pattern changes to a smoother, wave-like coherent pattern. By seeing the visual change on the screen and associating it with a more peaceful, calm internal state, you learn to manage stress and maintain a state of physiological coherence and balance.
Ordered and harmonious heart rhythms are an indicator of your "coherence level". High coherence is a state associated with positive emotional attitudes which send signals to the brain that reduce stress, improve brain function, hormonal balance, immune response, coordination and reaction times. emWave PC determines the degree of coherence found in your heart rhythm patterns and displays changes in real-time.
The emWave Quick Coherence Technique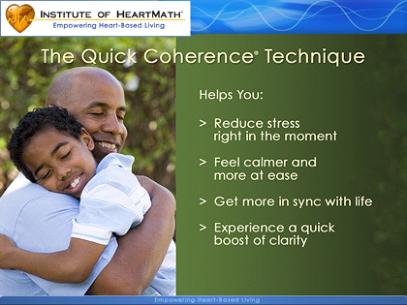 emWave will teach you how to enter a coherent state in about a minute with the simple, but powerful steps of the Quick Coherence® Technique.
Using the power of your heart to balance thoughts and emotions, you can achieve energy, mental clarity and feel better fast anywhere.
Use Quick Coherence especially when you begin feeling a draining emotion such as frustration, irritation, anxiety or anger. Find a feeling of ease and inner harmony that's reflected in more balanced heart rhythms, facilitating brain function and more access to higher intelligence.
More coherent heart rhythms facilitate brain function, allowing you more access to your higher intelligence so you can improve your focus, creativity, intuition and higher-level decision-making. When you're in heart-rhythm coherence, you perform at your best – what athletes call being in the zone. You feel confident, positive, focused and calm yet energized.
What is Included

Coherence Coach which uses audio instruction, visual imagery and an adjustable breathing pacer for learning and applying HeartMath's Quick Coherence technique.


Three, colourful, interactive games designed to help you transform stress into creative energy.


The Emotion Visualizer which provides stunning colourful imagery that changes as you increase your coherence level.


Heart rhythm display, data storage for session review, four challenge levels, audio control, application specific instruction, interactive tutorial and more.


USB sensor interface device


Comprehensive tutorial and user manual
System Requirements

Pentium II compatible processor, Microsoft Windows 2000-XP-Vista, 800 x 600 16 bit colour display or better, 64 MB DirectX 9 compatible video card, (recent ATI or Nvidia recommended), CD-Rom drive, one available USB port.
Price including free 'Next Day' UK delivery : £249
Home About Us Contact Us Meditations Machines RESPeRATE Biofeedback Systems Checkout Terms & Conditions Privacy Policy
© 2010 Meditations Ltd